07 Apr, 2021
Shafqat Mehmood Decides to Extend School Closures for grades 1 to 8 Until April 28
The Minister of Education and Professional Training Shafqat Mehmood announced that all in-person classes for grades 1 to 8 would be suspended until April 28 in areas with high incidence of coronavirus.
The classes for grades 9, 10, 11, and 12 will start again from April 19, stated Shafqat Mehmood while addressing to the media. The schools are resuming so that students can finish their exam curriculum and start learning for their examinations.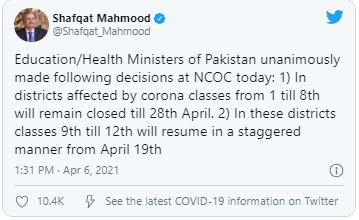 The announcement of the decision was made after the meeting at National Command and Control Center (NCOC). All education and health ministers attended this meeting to deliberate and review the opening of education institutions.
The following decisions were made during the meeting:
In Covid hotspots, classes for grades 1 to 8 will remain suspended till 28 April

Classes for grades 9 to 12 will start from April 19 with only 50 percent of student body attending classes on alternate days

Examinations will be conducted as per schedule

Local boards will start examination after May 24

A and O level exams will commence from May 10

University entrance exams have been postponed
In the NCOC meeting two points were discussed, namely, school closures and exam schedules. All decisions made in the meeting were taken considering all stakeholders involved, with health as the top priority in the decision making process.
Mehmood said "During today's meeting it was decided that classes for grade 1 to 8 will not be held in districts that are affected [by Covid - 19] and this will go on till April 28."
For example, there are 13 districts in Punjab, which are riddled with the Covid-19, the education minister of Punjab informed about this in the meeting. "Therefore, in these 13 districts classes for grade 1 to 8 will not require the physical presence of students, " Mehmood clarified.
He further stated, "The provinces will decide which areas are the most affected and where this will be implemented." The coronavirus situation will be closely monitored and the decision will be reviewed again on 28 April.
The classes for grade 9, 10, 11, and 12 will commence form April 19 with strict adherence to Covid - 19 SOPs. "This means that classes will also resume in affected districts in staggered manner so that students can complete their lessons and be prepare for their examinations," added Shafqat Mehmood.
In case of universities, all the universities operating in affected areas will remain closed and a complete shift will be made to online teaching.
Considering upcoming exams, he commented "It was decided that exams for grade 9, 10, 11, and 12 will be held, but because they are our own [boards], these exams will be pushed to the third week of May."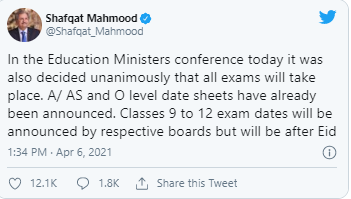 He further added that the date sheet released by the Punjab Board would also be revised to accommodate the coronavirus situation. So by the time examinations start and students commence their exam preparation, Covid – 19 would be under control. "All provinces and boards have given separate timetables. But nothing will happen before May 24."