29 Apr, 2021
Schools in Punjab Closed till Eid-ul-Fitr
Lahore: The government of Punjab has decided to close all government and private schools until Eid ul Fitr keeping in view the critical situation across Punjab as a result of spread of COVID – 19 and the emergent third wave.
The Punjab School Education Department released an official notification stating that all private and government schools will be closed from April 29 till Eid-ul-Fitr holidays due to the Covid – 19 pandemic. Before this notification, the schools were closed in only 25 districts of Punjab but now all districts have to follow this order.
Murad Raas, the Punjab Minister of Education, shared the notification on twitter. In a tweet, he stated "All Public and Private Schools in Punjab to be closed starting April 29, 2021 till Eid due to conditions of COVID 19. No exceptions."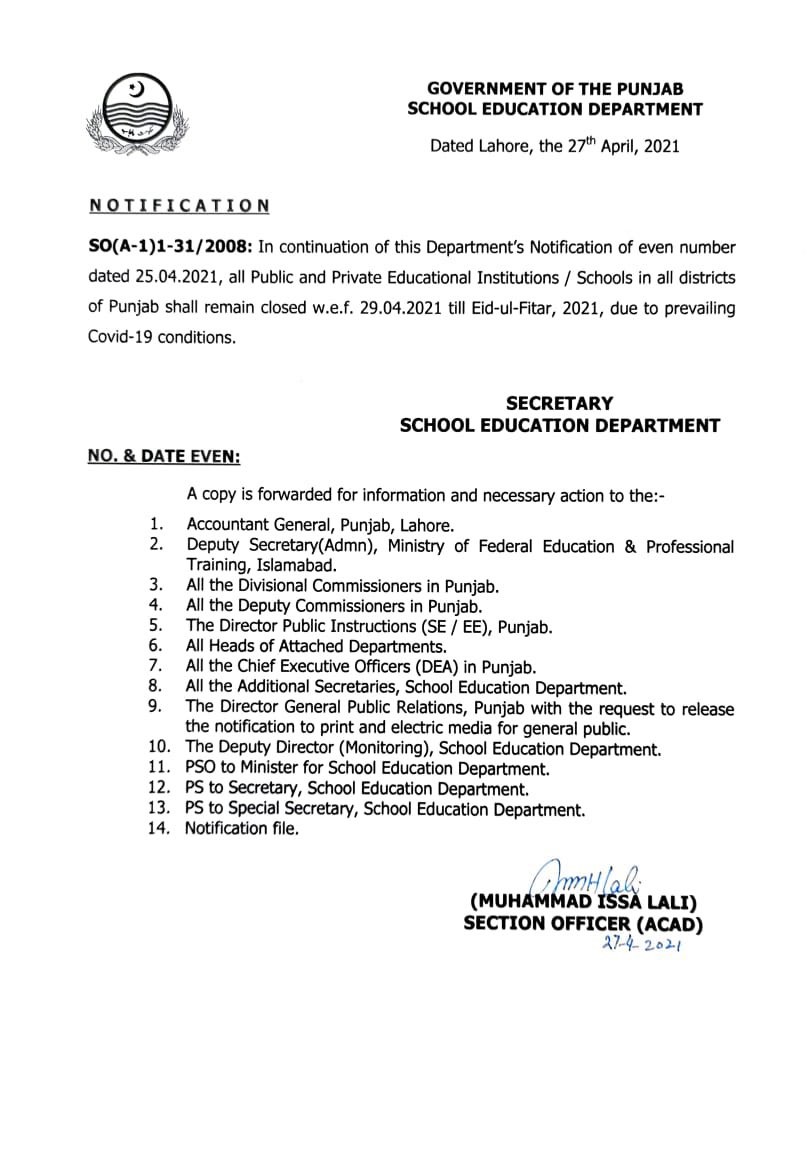 Cancellation of Examinations until June 15
The Federal Minister for Education and Professional Training, Shafqat Mehmood, had announced that all examinations across the country would be cancelled until June 15. The decision was made after a meeting held at the National Command and Operation Center (NCOC), which reviews the situation of COVID – 19 pandemic in Pakistan.
While addressing the press, Shafqat Mehmood said, "No exams will be held in the country until June 15." The decision was made with the contribution of Special Assistant to Prime Minister on Health, Dr. Faisal Sultan, alongside other provincial education and health ministers.
They further added that the COVID – 19 situation would be further reassessed and reviewed in the middle of May and decisions would be made accordingly.