19 Apr, 2021
CAIE Exams Will Be Conducted As Per Schedule
On Sunday, Shafqat Mehmood announced that all Cambridge Assessment International Education (CAIE) examinations would be held according to its stated schedule hence no exam will be delayed or cancelled.
The Federal Minister of Education, Shafqat Mehmood, released a couple of tweets in regard to this matter. He stated that a meeting was held to reach a decision on this matter. In this meeting, education and health ministers from all provinces were called in for deliberations. Mehmood added, "Those students wishing to take exams in Oct/Nov can do so in the same fee already paid."
He further clarified, "Meeting was also informed that Cambridge has decided not to give teacher-assessed graded this year therefore those not taking exams will take them in the next cycle Oct/Nov." Mehmood also assured that all Covid – 19 standard operating procedures (SOPs) would be strictly enforced during the conduction of CAIE exams.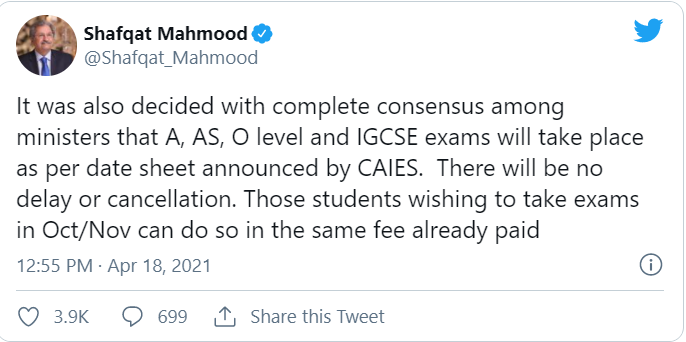 The British Council along with the director of CAIE and the federal ministry of education were issued notices by the Lahore High Court. The petition was against the conduction of exams that required physical presence of students in O and A level exams, even though coronavirus cases are on the rise.
Many students filed the petition because the classes were not held properly and a huge portion of the syllabus had not been covered due to these reasons, yet all students were forced to take the exams while putting their families' and own lives at risk.
In response to these concerns, the CAIE gave two options to the governments of countries who were bearing high numbers of Covid – 19 cases. The options were either to hold exams in a traditional way or to use school-assessed grades for the students.
The petitioners asked the court to direct the government to request the British Council and CAIE to switch the option from traditional examinations to school-assessed grades.